We are passionate about learning from each other and from groups and individuals who promote causes that are aligned with our aims and objectives. We regularly invite guest speakers from a variety of organisations and we share our learning with our respective congregations, our own circle of friends, and the wider community. We support all faith and belief communities by our involvement in joint projects, by serving together, and sharing social activities such as delivering food parcels to the vulnerable and isolated.
Please visit our Past Events page for a flavour of the events we have hosted.
We'd love it if you would consider using us as you plan your events. We have a wide range of experience, resources, or connections amoungst our members to support your endeavours. Please contact us for information.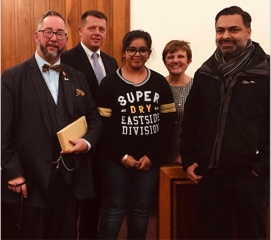 8th NNUAL LECTURE WITH MIKE HAINES OBE