welcome
Welcome to our new look website. We hope you will find the information you need to acquaint yourself with our goals and plans. We will update the content frequently and would welcome your comments.
Please use the links above to navigate to the areas of interest to you or click one of the following links:
About us - What are our aims and objectives
What we do - Our passions
Resources - Links to people and organisations with whom we have been involved
Legal - Some legal statements about what you can do with the content of this site
News and Events
News - Hot off the press, news and events that may interest you. Visit frequently for best experience.
Current Events - What we are planning. Would you like to be involved?
Past Events - What we've done. What we've been involved in.
We'd be delighted to have you join us in our committee meetings. Membership is only £5 for the year and you can join as an individual or as a representative of a faith group. Contact us for more information.

Interfaith Week has now ended but the Fife Interfaith Group had one more task to do. We received a generous donation of six cherry trees from the Equality and Diversity Unit at Police scoltand so we were able to replace the previously vandalized trees in the peace garden in Beveridge Park, Kirkcaldy. The planting was done on Monday 30th November and the Grounds Maintenance Service department of Fife Council provided the technical support. A HUGE thanks you to all. More ...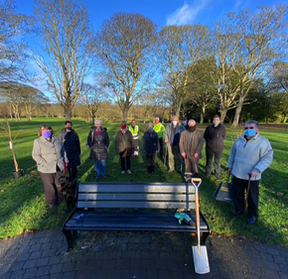 Socially Distanced tree planting